Garbage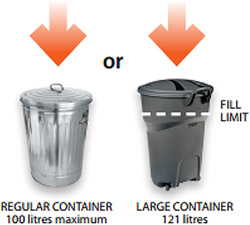 Garbage limits
(Where provided by the RDN)
Basic service provides for one container of garbage collected once every two weeks. The volume of garbage in the container may not exceed 100 litres or 22 gallons in volume. For the safety of collection crew, weight of garbage per container is limited to 23 kilograms or 50 pounds.
The one-can garbage limit or basic service makes individuals responsible for the cost of the garbage they generate, and encourages waste reduction and participation in the green bin food waste collection and curbside recycling program. This has contributed to our success in diverting waste from the landfill. By participating in the green bin and curbside recycling program the vast majority of our customers can easily accommodate the one-can limit.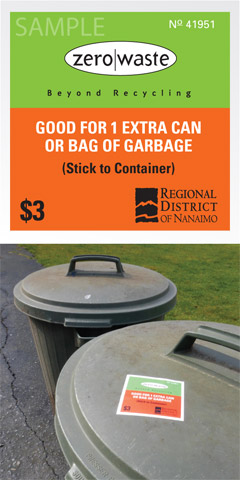 Extra Garbage Tags
Tags for extra containers of garbage may be purchased for $3 each. A maximum of two additional containers can be put out on your scheduled collection day, provided a garbage tag is attached to each additional container. Garbage tags are sold at the following locations:
Unsure of where it should go? Please call 1-877-607-4111 or use the What Goes Where look up tool.
| Facility | Location |
| --- | --- |
| Georgia Park Store | Bowser |
| Meadowood Store | North Qualicum |
| Ravensong Aquatic Centre | Qualicum |
| Town of Qualicum Beach municipal office | Qualicum |
| Church Rd Transfer Station | Parksville |
| City of Parksville municipal office | Parksville |
| Oceanside Place arena | Parksville |
| Waste Connections of Canada | Parksville |
| Quality Foods | Nanoose Bay |
| District of Lantzville | Lantzville |
| Regional District of Nanaimo administration office | Nanaimo |
| Jingle Pot Store | Nanaimo |
| Country Grocer (Chase River) | Nanaimo |
| Millway Market | Cedar |
| Cedar General Store | Cedar |
| Regional Landfill | Cedar |
| 49th Parallel Grocer | Cedar |
| Village Food Market | Gabriola Island |
Restricted Wastes
Wastes not accepted for garbage collection include:
Oversize items exceeding two feet in any dimension.
Highly flammable materials, hazardous wastes, containers of liquids such as cooking oil or motor oil.
Products such as batteries, paint, pesticides, and electronic equipment collected at depots.
Grass clippings, yard and garden waste.
Food waste (place in the green bin).
Construction or renovation waste.
Unsure of where it should go? Please call 1-877-607-4111 or use the
What Goes Where
look up tool.