Indoor Water Conservation
Be WaterSmart Indoors
Reduce, Repair and Retrofit areas in your home where water consumption is highest. On average, Canadians use about 65% of our water in the bathroom. Kitchens and drinking water account for less than 10%.
Calculate Your Household's Water Use! [ Click Here ]
Breakdown of Average Canadian Indoor Water Use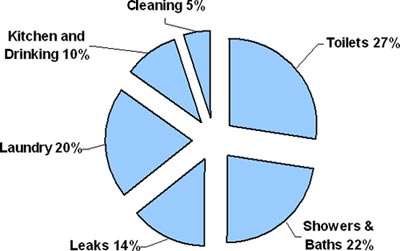 How Can I Reduce Indoor Consumption?
Bathrooms
Kitchens
Laundry
Links to More Indoor Conservation Tips