Water Use Reporting Centre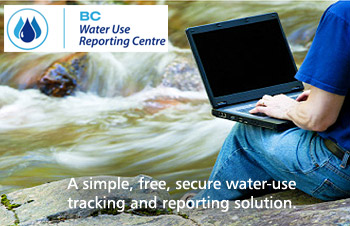 The BC Water Use Reporting Centre is a simple web-based system designed to help utilities, water purveyors and large water users regularly record their water use.
Water usage data is entered and securely held in an easily accessible online system. When reporting is required, a click of a button will produce ready-to-print reports as well as monthly and annual graphs and tables.
The BC Water Use Reporting Centre brings water management into the 21st century with one-stop reporting because every drop counts! To Login, click image

Background Information
In 2011 the Okanagan Basin Water Board (OBWB) launched the BC Water Use Reporting Centre (WURC) in partnership with the Province of BC and Environment Canada. The OBWB was looking for a tool to assist water providers with the vital purpose of managing water supplies in their area, in order to do this they needed a universal system to manage water data with an ongoing record of how much water was actually being used. To meet this goal WURC was created.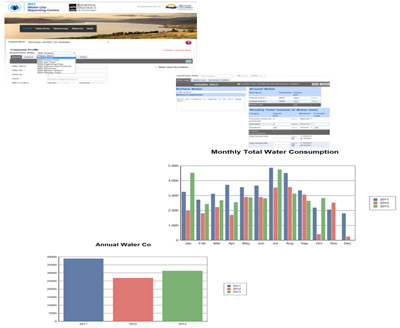 The WURC is a huge success in the Okanagan basin and, as of March 2013, is used by all three Okanagan regional districts and 70 per cent of water utility providers and purveyors. The Regional District of Nanaimo is looking to implement a productive and useful online system to better manage our water resources within the region.
"Government will require all large water users to measure and report their water use."
-LIVING WATER SMART
British Columbia's Water
"Reporting water use makes sense. You can't manage what you don't measure."
-Conrad Pryce, Section Head,
Water Allocation, B.C. Ministry of Forest, Lands and Natural Resource Operations
What the BC Water Use Reporting Centre means for Water Managers:
Record and report from anywhere you have cell phone access
Access your data quickly and easily online
Review last years' data, or data from any time period, for benchmarking and analysis
Monitor water usage and create graphs to compare water use across your desired time frame
Use standardized data collection, organize information and review it in an usable form
Easily comply data to produce Provincial annual reports
Predict tomorrows' usage to make management decisions today
Build lasting water supplies for your service area now and in the future
Who can participate?
The BC Water Use Reporting Centre can be utilized for free by all BC water license holders within the Regional District of Nanaimo.
See this video on the Okanagan Pilot

To participate or learn more about the BC Water Use Reporting Centre contact
Julie Pisani


jpisani

[at]

rdn.bc.ca

rel=" noopener" target="_blank"


250-390-6586
Regional District of Nanaimo
Drinking Water and Watershed Protection Program Coordinator