Current Planning
The RDN's Current Planning department is often the first point of contact for property owners, buyers, and developers with land use questions. If you have questions about where on your property you can erect a building, or what types of buildings or uses are allowed, the current planning team can answer your questions. The department provides zoning, development management, and planning administration services in the following six Electoral Areas:
Electoral Area A (Cassidy, Cedar, Yellow Point, South Wellington)
Electoral Area C (Extension, Arrowsmith-Benson, East Wellington, Pleasant Valley)
Electoral Area E (Nanoose Bay)
Electoral Area F (Coombs, Hilliers, Errington)
Electoral Area G (French Creek, Dashwood, Englishman River)
Electoral Area H (Shaw Hill, Qualicum Bay, Deep Bay, Bowser, Spider Lake, Horne Lake)
Please note that planning services for Electoral Area 'B' (Gabriola, Mudge, Link, Decourcy, and Ruxton Islands) are provided by the
Islands Trust
. The Islands Trust Northern office (located on Gabriola Island) can be reached at (250) 247-2063.
The principal functions of the RDN's Current Planning department are:
to serve the community by responding to a wide range of inquiries and applications related to the use and development of land;
to act as a resource to the RDN Board on land use planning and development matters; and
to administer land use bylaws, regulations, and policies.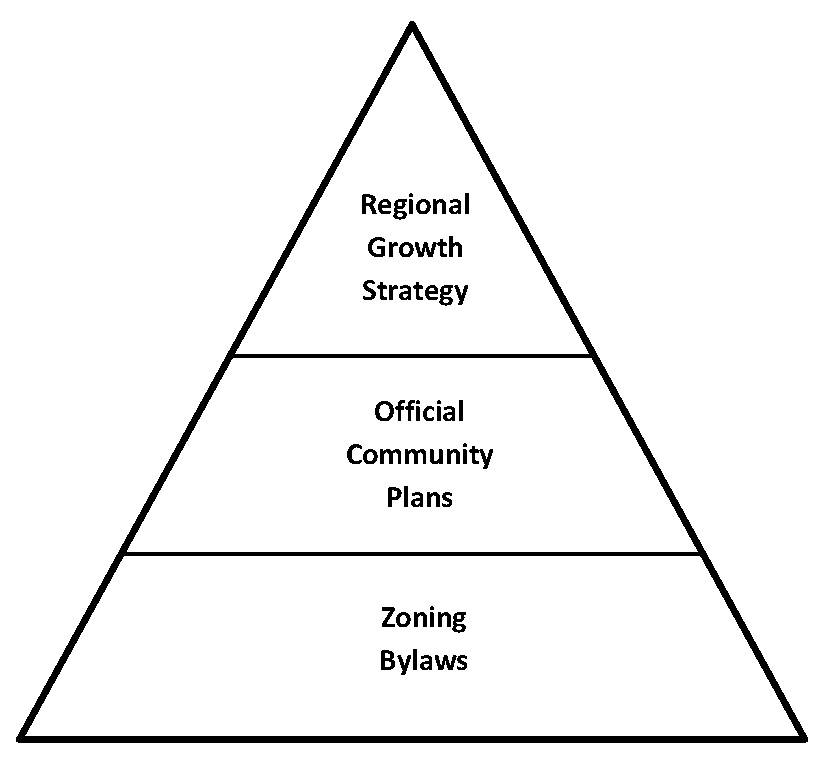 What is the relationship between zoning bylaws, Official Community Plans, and the RDN's Regional Growth Strategy?
The RDN's Regional Growth Strategy, Official Community Plans, and zoning bylaws have a hierarchical relationship, and each document is adopted by bylaw. The Regional Growth Strategy is a strategic planning document that provides a regional vision to the RDN's Electoral Areas and member municipalities and guides long range planning and sustainable growth. All subsequent bylaws (such as Official Community Plans) and services (such as Water Service Areas) implemented by the RDN must be consistent with the Regional Growth Strategy.
Each Electoral Area within the RDN has adopted an Official Community Plan, which provides a policy framework and long-term strategy for land use designations, development, and servicing. The goals of the Official Community Plans are implemented primarily through zoning bylaws. Zoning bylaws regulate specific uses of land and buildings in the Electoral Areas.
Contact Current Planning
Telephone:
250-390-6510
Email:
planning@rdn.bc.ca
Address:
Regional District of Nanaimo
6300 Hammond Bay Road
Nanaimo BC
V9T 6N2
Office hours:
Monday, Tuesday, Thursday, Friday
8:30 am to 4:30 pm
Wednesday
8:30 am to 5:30 pm
Closed on Statutory Holidays