Home Energy Efficiency How-to: Rebates and Renovations

Renovating your home for energy efficiency can help improve the comfort, climate resilience and indoor air quality of your home, while also reducing greenhouse gas emissions. We've put together some resources that can help your project succeed.
Now's a great time to be improving the efficiency of your home as the province, the federal government and the RDN all have generous funding programs available to help cover the costs.
For those who prefer video, we've got a webinar recording that sums everything up for you, no reading required! Click the photo or links below.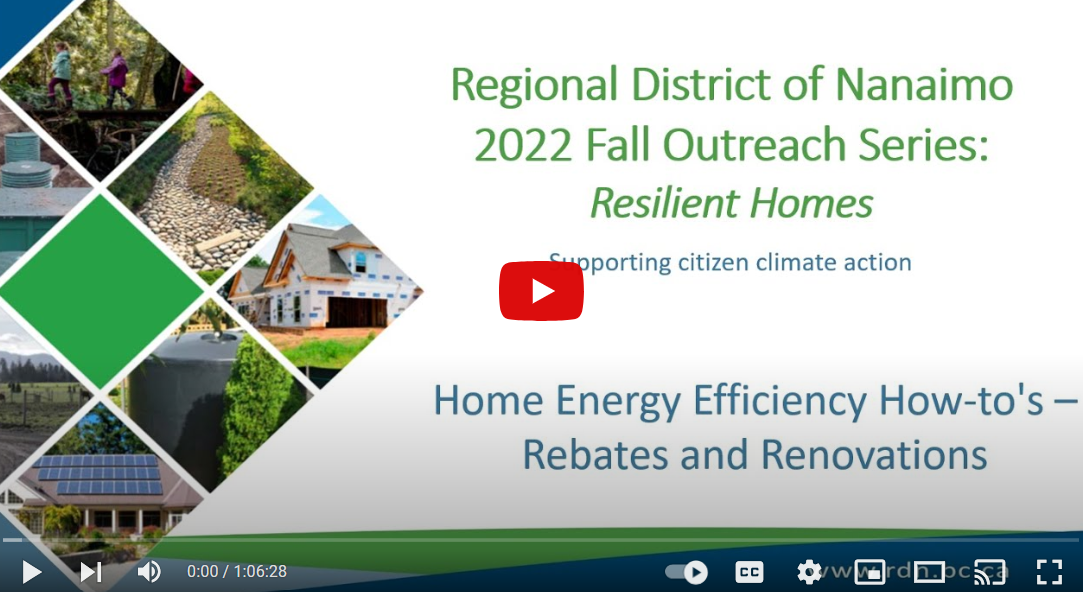 The Home Energy Efficiency How-to: Rebates and Renovations webinar can be viewed here. This webinar is designed to help residents understand the renovation process, find and work with qualified contractors, and learn about eligible rebates. Information is current as of November 2022 - so make sure you check for any changes to the rebate programs mentioned!


Other webinar recordings that might interest you can also be found here.
Steps to help manage your home energy efficiency renovation.
Click to jump to each section.
1. Define Your Priorities and Budget
2. Evaluate Your Home with an Energy Advisor
Don't miss out on opportunities! Identify the upgrades your home will need over the next 20 to 30 years and plot them on a timeline (e.g. roof, heating system, window, siding replacements, draining improvements). These are opportunities for improving energy efficiency when it is most economical and you don't want to miss them!
If you are replacing your siding, that is a great time to add more external insulation.
If you are excavating to fix drainage around your foundation, that is a great time to add exterior foundation insulation.
Taking this strategic approach can help reduce costs of energy upgrades by avoiding re-work and taking advantage of fixes you already need to do.
Think about ALL changes you'd like for your home, not just energy efficiency. A good process for this is provided in the Government of Canada Home Owners Guide for Building and Renovating: Making your Renovation Work - Get it in Writing!
Get a sense of rebates available to help, making sure to read about any eligibility requirements specific to each rebate. For example, some provincial grants require a minimum level of annual electricity use, and federal heat pump grants have specific equipment requirements.
---
Energy Advisors are trained in building and technology methods for evaluating and improving home energy efficiency. They can help you make informed decisions based on potential energy savings, your budget and the needs of your home. Most of the costs of your home assessment and EnerGuide evaluations will be covered through federal, provincial and the RDN rebate programs. Evaluations are required for the Canada Greener Homes Grant.
To get the most out of your home assessment:
Prepare your questions beforehand.
Discuss you main priorities with your advisor.
Read and follow the instructions provided to prepare for the assessment.
To find an energy advisor in your area:
Right now most energy advisors are asking that you request their services through the Federal Greener Homes Grant program portal
Visit Canada Greener Homes Grant (nrcan.gc.ca) for more program information and to book a retrofit evaluation.
You can also search betterhomesbc.ca/ea/ to find an Energy Advisor working in your Area.
NOTE - there is currently very high demand for Energy Advisor services in our area - you can ask different service providers about expected timelines.
---
Outline your plan in staged approaches to help organize your renos in sequence, minimize costs and avoid discomfort during the renovation process.
An example of staging your approach can look like this:
1. Replacement timeline
Look at the age and likely lifespan of different components of your home- develop a timeline of when they will likely need replacement. Plan to improve energy efficiency at each replacement so you don't miss out on opportunities that may occur only once every 20-40 years (e.g. roof and siding replacements).
EnerPhit is an approach that helps homeowners plan for deep energy retrofits over time. Renovations are planned in stages to achieve a very high level of energy efficiency. It can be very effective if you have the resources to work with a designer and other building professionals and you wish to achieve deep energy retrofits. More information can be found at passivbuildings.com/retrofit/enerphit/
2. Consultation
Ask your contractor or energy advisor to comment on your plan and suggest any changes to the sequence of renovations. Make sure your end goals are clear. (e.g. Net Zero, high air quality, etc.)
3. Contractor Strategies
Request strategies from your contractor to help ensure that the renovations you do now will make it easy to do renovations you have planned for later. For example, if adding exterior insulation and doing siding renovations, ensuring the design considers allows for proper installation and insulation of windows that may be replaced at a later date.
---
Working with the right contractor will help get the most out of your renovation and reduce risks. To help find the right contractor, consider the following:
---
Request a follow-up assessment to evaluate the improvements made by your renovations.
Follow-up assessment:
---
Approximate amounts available through the federal, provincial and RDN rebate programs are provided below.
Need rebate help?
If you have questions about provincial or federal rebate programs, consider calling a BC Energy Coach. They are specially trained to help people understand and access provincial rebates, and can supply some information on federal rebates.
To contact a BC Energy Coach
Federal Government
Funding up to $5,600.
These grants are administered by the Federal Government of Canada, questions about this grant should be directed to the federal government.
Provincial Programs
Up to $10,000 in rebates for renovations and retrofits.

Attic insulation upgrades - up to $900
Mini split heat pump - up to $6,000
Window and door upgrades - up to $2,000.

This program is administered by the BC Provincial Government, questions about this program should be directed to the CleanBC Program Manager - betterhomesbc.ca/connect/
To learn more, visit: betterhomesbc.ca.
RDN Rebates
Except for the Wood Smoke Reduction Program rebate, RDN rebates are available to Electoral Area residents only and are stackable with provincial and federal rebates.
There are rebates for home energy assessments, solar panel installations, electric vehicle home charging stations, among others
for more information on our current rebates, visit: rdn.bc.ca/rdn-rebates
If you need more information on RDN rebates after viewing the website above, contact sustainability [at] rdn.bc.ca.
Additional Resources