Hydrometric & Climate Monitoring
Understanding precipitation patterns and local streamflow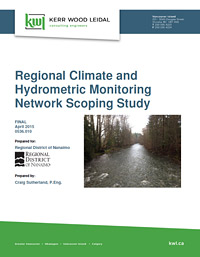 In 2015, the Regional Climate and Hydrometric Monitoring Network Scoping Study was completed to move forward with recommendations to identify and prioritize locations and potential partnerships to support additional climate and hydrometric (streamflow) stations within the region to improve the existing climate and hydrometric monitoring networks.
Key purposes for collection of local climate and hydrometric data include:
To assess available water supplies for community planning; quantify surface water (flow & level) and ground water (recharge to ground).
To aid with operational hydrology calculations for seasonal water supply forecasting;
To supplement water quality data to provide estimates of total loading rather than only concentrations of pollutants;
To better calculate design flood estimates and rainfall intensities for drainage, stream crossings or flood protection design;
To provide timely data for local flood forecasting and warning,
To improve fire weather monitoring (for forestry operations and forest fire safety),
Baseline monitoring for climate change impact assessment; and
Other currently unknown future uses.
These purposes serve the RDN directly but also other partners in the region, illustrating the benefit of collaboration. The list of priority data gaps (sites that need monitoring) that were identified in the 2015 report can be found here .
The climate and hydrometric monitoring sites referenced on this page complement two other existing networks the RDN DWWP oversees: The Community Watershed Monitoring Network for surface water quality and the Observation Well Network for groundwater levels.
Priority Monitoring Sites:
Priority Monitoring Sites
Year Established
Location
Parameters
Partners
2018
French Creek
Streamflow,
Level,
Temperature
DFO, MFLNR, RDN Parks, RDN DWWP
2018
Upper Nanoose Creek Watershed
Temperature,
Wind,
Precipitation,
Humidity
Island Timberlands, RDN DWWP
2017
Nanoose Creek
Streamflow,
Level,
Temperature
DFO, MFLNR, RDN DWWP
2017
Quennell Lake and Holden Lake
Lake Level,
Temperature
RDN DWWP
2016
Haslam Creek
Streamflow,
Level,
Temperature
DFO, MFLNR, RDN DWWP
2016
Mt Arrowsmith
Snow Depth,
Snow Water Equivalent,
Temperature etc.
MFLNR, MoE,VIU, RDN Parks, RDN DWWP, Island Timberlands
---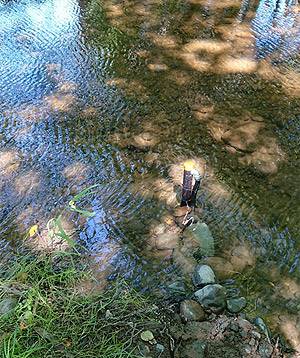 French Creek
The RDN's Phase 1 Water Budget Study identified French Creek as a priority watershed for more data collection to enhance understanding of surface water and ground water interaction. It's an important fish bearing stream and in close proximity to developed aquifers that are important community water supply sources.
Real-time data from the station can be found by clicking here.
---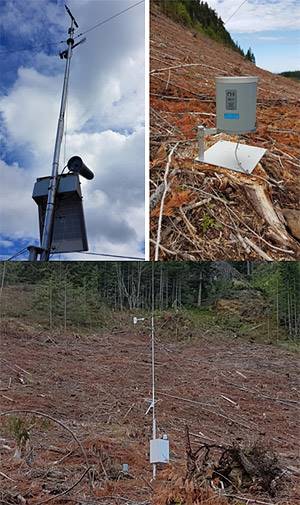 Upper Nanoose Creek Watershed
As Nanoose is another priority location for further water budget analysis, more data on upper elevation climate and precipitation was identified as a need to establish baseline conditions, and assess geospatial variability of climate data to refine water budget inputs. This station is at approximately 500m elevation close to the headwaters of Nanoose Creek, on Island Timberlands property.
---
Nanoose Creek
Streamflow in Nanoose Creek is another important measurement to help understand water dynamics and changing conditions in this priority area. This data will helpful to analyze in concert with groundwater level data from the underlying aquifer and with the precipitation data from the upper watershed. This is a fish bearing creek that has traditional significance to the Snaw-naw-as First Nation.
Real-time data from the station can be found by clicking here
---
Quennell Lake and Holden Lake
Understanding the how the complex bedrock geology in the Yellowpoint-Cedar area stores and conveys water is another key focus for data collection. Two key lakes in this area, Quennell and Holden, were instrumented in 2017 with lake level loggers to track lake levels seasonally and over time. This will be useful to compare against nearby groundwater level monitoring data.
---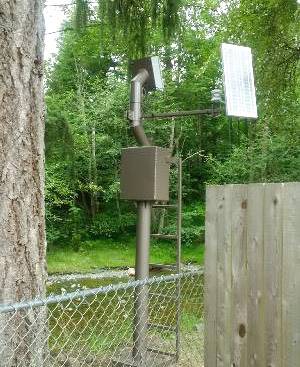 Haslam Creek
Another priority site for monitoring is Haslam Creek, in Area A, for streamflow and level. This will serve as a baseline station for southern RDN watersheds and will be coupled with local precipitation data from Nanaimo Airport and groundwater level data from Provincial Observation wells in that area. This priority data gap has been addressed through partnership with DFO, Ministry of Forests Lands Natural Resource Operations and the RDN DWWP program.
Real-time data from the station can be found by clicking here.
---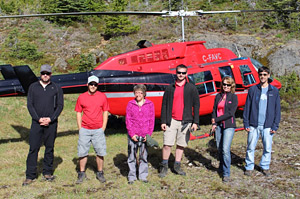 Mt Arrowsmith Snowpillow and Weather Station
The first priority to be addressed from the report is the climate station on Mt. Arrowsmith, to monitor for snowpack. Upper elevation weather information from Mt. Arrowsmith is important for the Englishman River, French Creek and Little Qualicum River watersheds. Several partners have worked together to implement a new Automated Snow Pillow / Weather Station at 1400m elevation on Mt. Arrowsmith within the Arrowsmith Massif Regional Park:
Vancouver Island University - Mt. Arrowsmith Biosphere Region Research Institute
BC Ministry of Environment - Snow Survey Program
BC Ministry of Forests, Lands and Natural Resource Operations - Research Hydrology
Island Timberlands LP and TimberWest
Arrowsmith Water Service - City of Parksville, Regional District of Nanaimo & Town of Qualicum Beach
RDN Parks & RDN Drinking Water and Watershed Protection
Installation of the Arrowsmith station was completed in early November 2015, and final instrumentation of the station was completed in fall 2016 with the first winter of operation (2016-2017) being primarily for calibration.This is intended to be a long-term station to build the local dataset, and is incorporated into the provincial network of snow survey stations. [Click Here] to see the interactive graph.