Biosolids Management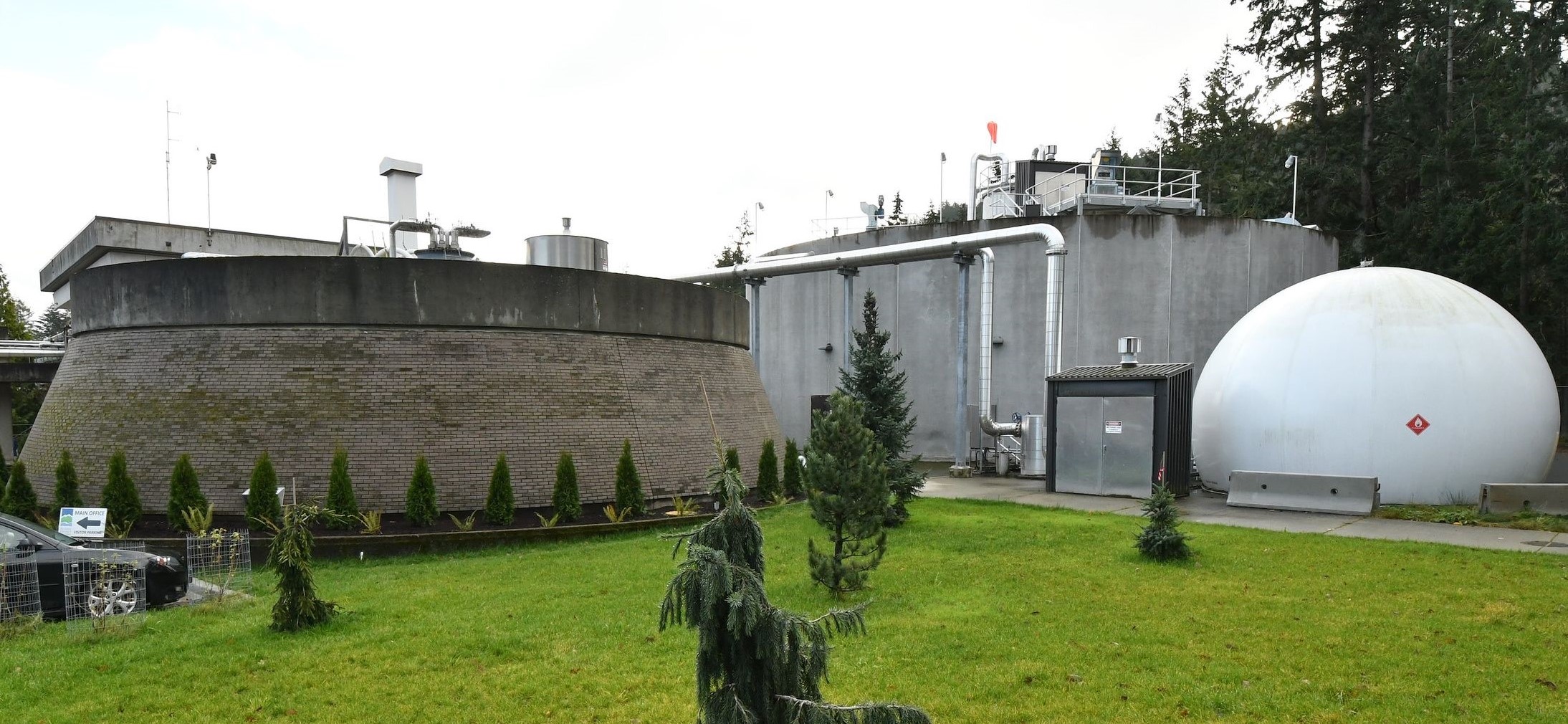 The tanks on the left and in the center of the photo are two digesters that produce biosolids at the Greater Nanaimo Pollution Control Centre
Municipal wastewater treatment produces treated effluent, biogas, and solids. Each product can be reused for a beneficial outcome and a smaller discharge to the environment, similar to how recycling and composting can divert solids waste from the landfill. The solids produced during wastewater treatment in the RDN are stabilized in engineered tanks called digesters. The stabilized solids become "biosolids" once they meet quality criteria outlined in the Provincial Organic Matter Recycling Regulation. 
The Canadian Council of Ministers of the Environment and the Ministry of Environment and Climate Change Strategy encourage local governments to reuse biosolids to benefit from the high nutrient value. With this consideration, the RDN Liquid Waste Management Plan commits to beneficially using biosolids. 
Award Winning Programs
The RDN produces about 7,000 tonnes of biosolids each year in their award-winning biosolids management program. Currently, RDN biosolids are managed in two programs:
1) Soil Fabrication Program

This program operates in partnership with Nanaimo Forest Products Ltd. at the Harmac Pacific (Harmac) kraft mill site in Nanaimo. There, Harmac mixes RDN biosolids, Harmac wood waste, and mineral soil to fabricate a beneficial soil product. 
2) Forest Fertilization Program

This program operates in partnership with TimberWest Forest Company (TimberWest) and Mosaic Forest Management Corporation (Mosaic) and the Nanaimo Mountain Bike Club. Through this partnership, biosolids can increase tree growth on nutrient-poor timberland. Additionally, biosolids application activities are successfully coordinated with forestry operations and recreational activities.

The RDN Forest Fertilization Program is on private forest lands approximately 12 km northwest of Nanaimo, about 1 km west of the Biggs/Doumont Road intersection, just off Weigles Road. The land is an operational forest Managed by Mosaic.
The agreements between the parties formalize the RDN's biosolids forest fertilization program and the Nanaimo Mountain Bike Club's recreational activities on private forest land, thereby also improving communication and safety, and maximizing the benefits for all three parties.
More information on the Biosolids Forest Fertilization Program is provided below.
Frequently Asked Questions
General
Forest Fertilization Basics
Health and the Environment
Research and Studies