Residential Electric Vehicle Charging Station Rebate
The RDN's Home EV charging rebate offers a $150 top-up to RDN Electoral Area residents who install an eligible Level 2 home electric vehicle charging unit at their place of residence. Charging station installations must meet the requirements of the BC Hydro Power Smart Program.
Eligibility
Rebate Amount
$150
 
Apply For Your Rebate
Required Documents
digital scan/copy of the receipt for purchase and installation of the eligible EV charging station, showing paid in full, along with make/model of unit
digital scan/copy of the electrical permit for the installation, clearly showing company name
Please make sure to also include the following information in your submission
Address of the project where the renewable energy system is installed
Address to which your rebate cheque will be sent (if different)
Steps to Apply
1. Complete home upgrades, following eligibility requirements above. 
2. Collect the required documents, listed in the table above. 
3. Apply online (preferred method), or by email, mail, or in-person to the RDN. 
Apply Online
Submit the required documents to the link below

Please allow 4-6 weeks for processing and delivery of your rebate cheque.
 
Other Ways to Apply
Submissions can be made to the Regional District of Nanaimo by email, mail or in person. Our office is open Monday to Friday from 8:30 a.m. to 4:30 p.m., excluding statutory holidays. 
1. Collect the required documents (listed above)
2. Submit documents to by email, mail or in person at the RDN Administration Building:
sustainability [at] rdn.bc.ca
EV Charger Rebate
c/o Sustainability Coordinator
6300 Hammond Bay Road
Nanaimo, B.C. V9T 6N2
Resources 
Additional incentives for both the purchase of electric vehicles and the installation of electric vehicle charging stations are frequently available through Plug In BC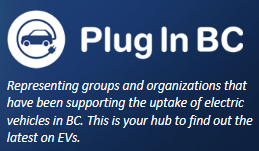 A location map of public EV Charging Stations can be found HERE
Information on other rebates available through the BC Hydro Program:
The RDN, in partnership with 11 local and regional governments, is in the process of installing 28 EV charging stations on Vancouver Island. This expands the existing network of Level 2 EV charging stations in the Nanaimo and Parksville area, as well as in communities such as Courtenay, Comox, Cumberland, Campbell River, Tofino and Ucluelet, among others. See a map of the proposed locations

HERE

. 
 
Contact 
sustainability [at] rdn.bc.ca
250-390-6510
1-877-607-4111