Residential Electric Vehicle Charging Station
The Regional District of Nanaimo is partnering with BC Hydro's PowerSmart program to provide increased financial incentives for eligible Electoral Area residents who install a home EV Charging Station.
The program is accepting applications as of April 21, 2021 and will continue to do so on a first-come, first-served basis until funds are exhausted. 
Eligible residents can receive up to $350 back on eligible charging station installations.
For more information and to apply for your rebate visit BC Hydro's program website: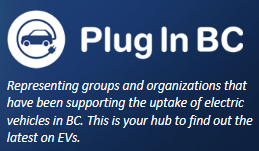 Useful Links
Additional incentives for both the purchase of electric vehicles and the installation of electric vehicle charging stations are frequently available through Plug In BC.
A location map of public EV Charging Stations can be found HERE. 
Additional rebate information:
More information
sustainability [at] rdn.bc.ca
250-390-6510
1-877-607-4111