Collection Carts
Cart Delivery, Cart Exchange Requests, Report Missing Carts
Between July 13 and September 15, 2020, RDN's contractor, Waste Connections will be delivering a set of three wheeled carts - one for garbage, one for recyclables and one for food waste - to each RDN residential household along with an information guide (except City of Nanaimo residents who are already on automated collection serviced by the City of Nanaimo Public Works department). The new carts may be delivered separately. If you did not received all three carts by September 15, please report it via the Online Portal. For more information regarding the carts, the new service, billing and much more, click here to access the FAQ.
RDN residents had the opportunity to pick their desired cart sizes based on your household needs during the cart selection period between September and December 2019. If you do not select your preferred cart sizes during the cart selection period, you will receive a default set of carts: 240L recycling cart, 100L food waste cart and 100L garbage cart.
Residents that either did not select their preferred cart sizes during the cart selection period between September and December 2019 or would like to change their previously submitted cart size preferences, cart exchange requests can be submitted via the Online Portal; these requests will not be processed until after November 1, 2020. A cart exchange administration fee of $50 per household will apply. The RDN curbside collection service is a user pay system and the $50 administration fee covers the contractor cost associated with pick up and drop off replacement carts, including the onsite reprogramming of the radio-frequency identification tag associated with the carts and the property. Please note, cart exchanges must be handled by the contractor as it requires coordination of de-tagging old carts/ re-tagging new carts onsite; for clarity, residents are not permitted to drop off/ pick up new carts at the contractor's yard.
If you are moving into a new development, you will be provided a cart selection form upon issuance of Final Occupancy from the Building Department. Your preferred carts will be delivered directly to your property.
If you are moving into a resale home, please use the carts that are already at your new property. If the cart(s) at your new property do not meet your household disposal needs, you can exchange the cart free of charge via the Online Portal. If there are no carts at your new property when you move in, please contact the RDN via the Online Portal.
If you are a tenant moving into a rental, please use the carts that are already at your new rental. If the cart(s) at your new rental do not meet your household disposal needs, please contact your landlord/ property owner. Only the landlord/ property owner is permitted to request a cart exchange.
---
Serial Numbers
All carts are identical, having the address on the carts will make it easy for you and your neighour(s) to distinguish the carts. A unique serial number is stamped on the front of each cart. These numbers will identify your carts if they are lost. Record these numbers in the user guide that accompanied your cart delivery for future reference. Alternatively, you can write the your address on the address labels provided in the information package.
DO NOT write your address directly onto the cart as this will void the warranty with the manufacturer.
If you find a cart that does not belong to your property, or if you cart is damaged or missing, call Waste Connections 1-866-999-8227.
---
How It Works
Starting Thursday, October 1, 2020, RDN residents must start using their assigned automated collection carts for curbside collection.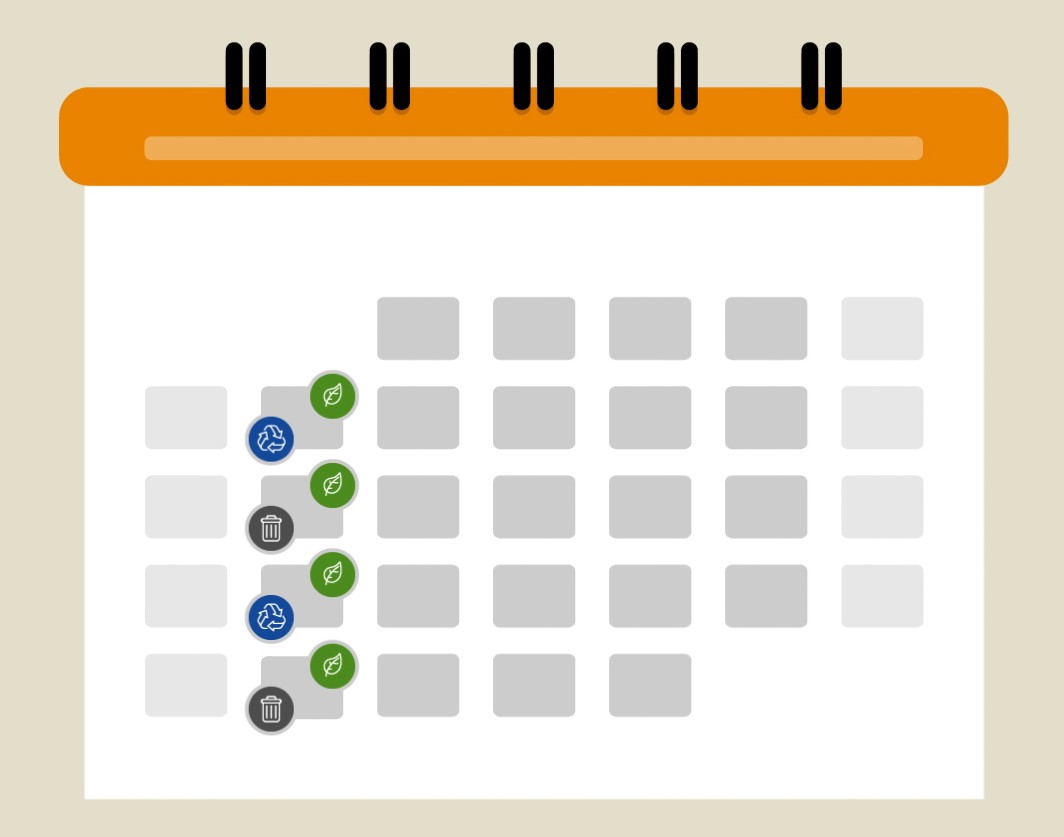 Collection will remain the same as the 2020/2021 collection schedule. Click here for check your schedule.
Food waste is collected weekly in your food waste cart;
Garbage is collected every two weeks in your garbage cart, alternating weeks with your recycling; and
Recycling is collected every two weeks in your recycling cart, alternating weeks with your garbage.
By 8 AM on your scheduled collection day:
Roll your carts to the street with the wheels against the curb if there is one, or just off the road, on the shoulder or at the end of your driveway.
Face your carts with the arrows on the cart lid must point to the street. The cart lids must be completely closed and the food waste cart lid in the locked position; overflowing carts will not be collected as material will spill onto the street as it is being emptied.
Space your carts at least 1 m (3 ft) of clearance between the carts and any obstacles (parked cars, poles, fire hydrants, etc.) and 3 m (10 ft) of clearance above.
Remove your carts once the collection truck has emptied the carts, return your carts to a secure location on your property within the same day. If your carts are not collected by 6 PM, report a missed collection via the Online Portal (link will not be active until September 15th).
---
How to Use Your Carts
This short video illustrates how the carts are to be used.
---
How to Place Your Carts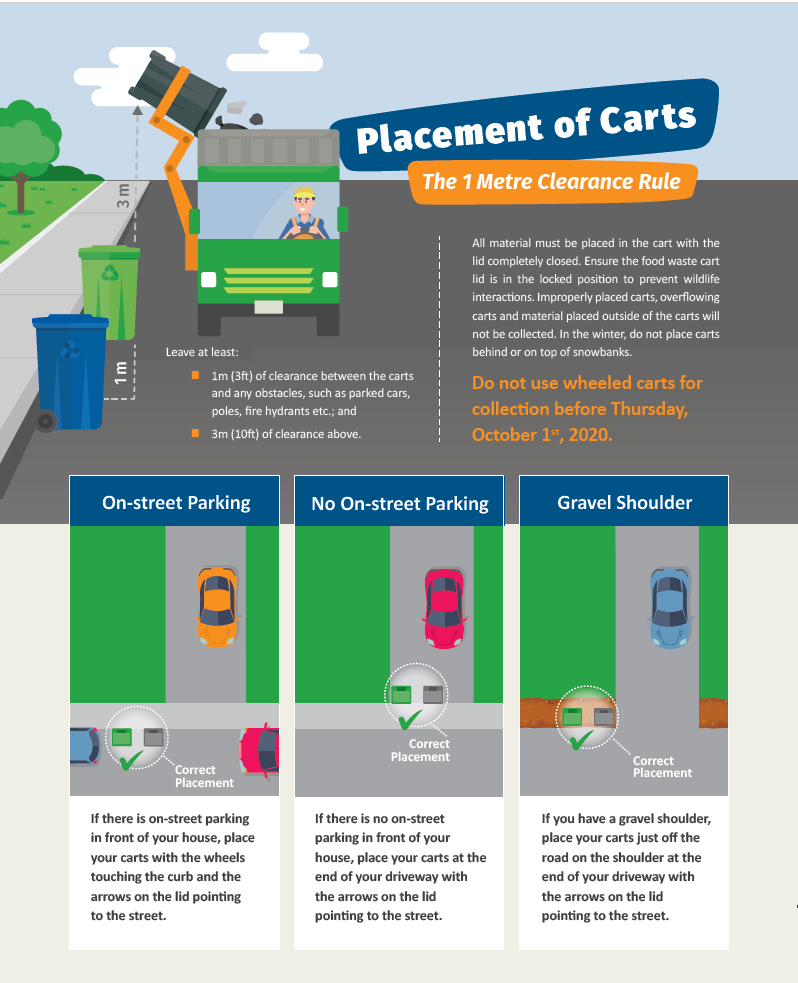 ---
Cart Attachments
This short video profiles a number of cart attachments available on the market that can be affixed to vehicles (car, truck, ATV, lawn tractor, etc.) to allow residents to easily tow the carts.
If you are interested in learning more about the cart attachments, please contact curbside [at] rdn.bc.ca.
---
Cart Tips
Place only acceptable materials in the carts. If you are uncertain about an item, use the "What Goes Where" feature on the RDN Curbside app or RDN website.
Place items loosely in the cart, forcing items in makes it hard for the collection truck to empty the cart.
Keep you food waste cart locked (in the vertical position) at all times, including on collection day, to prevent wildlife interactions.
Close the lid before moving the carts.
Do not sit, climb or stand on the carts
Children should not play in or around the carts.
Do not place or store carts on elevated platforms, including snowbanks and avoid placing carts on a steep slope.
During snow events, pulling the cart behind you over the snow will be easier than pushing the cart ahead of you.
---
Cart Types and Sizes
Each RDN residential single family home will have three wheeled carts:
a recycling cart (blue lid);
a food waste cart (green lid) with gravity lock; and
a garbage cart (black lid).
The GARBAGE cart sizes are:
80L (downsize option) - holds approximately 1 bag*
100L (default cart size) - holds approximately 1.5 bags*
240L (upsize option) - holds approximately 4 bags*
* standard 30 in X 38 in (76 cm X 96 cm) bag
The RECYCLING cart sizes are:
100L (downsize option) - holds approximately 1.5 blue boxes**
240L (default cart size) - holds approximately 4 blue boxes**
360L (upsize option) - holds approximately 6 blue boxes**
** standard 19 in X 16 in X 13 in (48 cm X 40 cm X 31 cm) recycling box
Cart size chart

| | | | | |
| --- | --- | --- | --- | --- |
| | 80L | 100L | 240L | 360L |
| Garbage | | Default Size | | Not Available |
| Recycling | Not Available | | Default Size | |
| Food Waste | Not Available | Default Size | Not Available | Not Available |