Community Parks and Trails Strategic Plan (CPTS)
For communities between Nanoose Bay and Bowser (Electoral Areas E, F, G, H)
Please click on the red letters for a map
of the Electoral Area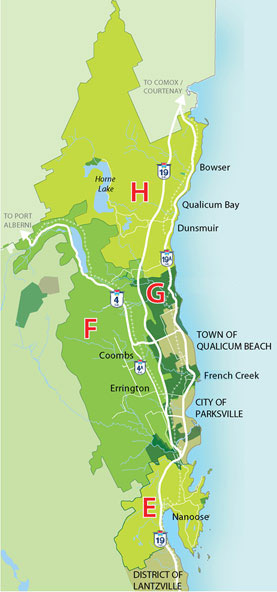 Public demand for better parks and trails has grown. A strong strategic plan ensures that the community park and trails meet the needs of each community.
The goals of the CPTS are to:
Connect people and places
Provide social and recreation opportunities
Protect the environment
Support community partnerships
The objectives of the CPTS are to:
Build trails that provide various options for travel.
Provide outdoor spaces for recreation and events.
Provide information on community parks and trails.
Protect the environment and culturally sensitive parks and trails.
The Community Parks and Trails Strategy (CPTS) was developed in 2013