2012 Green Building Series
With the theme of "Off-grid Energy and Water Systems", this year's Green Building Series will present ideas and showcase technologies focused on high efficiency or off-grid energy and water systems including rainwater harvesting, residential renewable energy systems, and home energy assessments. Be inspired by examples of local green buildings and meet regional experts who can provide further guidance to help you achieve a more sustainable and efficient home.
Green Building Speaker Series
Schedule: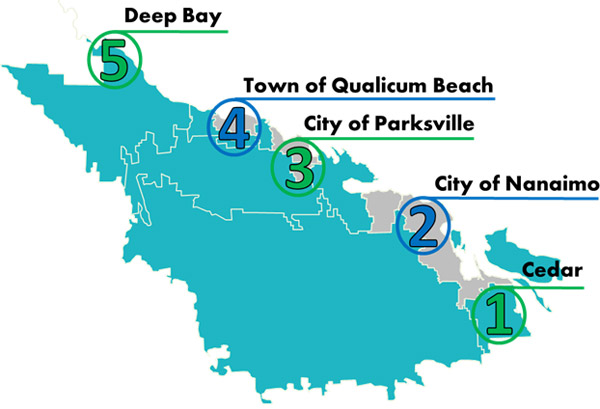 2012 Green Building Series Schedule

1

Saturday, September 29th

1 to 4:30 pm
FREE

Cedar Heritage Centre

1644 MacMillan Rd
Google map

Off-grid Energy Systems presented by Gord Baird, Eco-Sense
Off-grid Water Systems presented by Gord Baird, Eco-Sense
Home Energy Assessment for Existing Homes presented by City Green

2

Saturday, October 6th

1 to 4:30 pm
FREE

Nanaimo Oliver Woods Community Centre

6000 Oliver Rd
Google map

Greening Our Buildings: A first principles approach presented by Mark Holland, New Monaco Enterprise Corp.
Green Building Certification presented by Ken Connolly, Pheasant Hill Homes
Home Energy Assessment for Existing Homes presented by City Green

3

Saturday, October 13th

1 to 4:30 pm
FREE

Parksville Community & Conference Centre

132 East Jensen Ave
Google map

4

Sunday, October 21st

1 to 4:30 pm
FREE

Qualicum Beach Civic Centre

747 Jones St
Google map

5

Saturday, October 27th

1 to 4:30 pm. Tour: 3:30 to 4:30 pm
FREE

Deep Bay - VIU Centre for Shellfish Research Field Station1

370 Crome Point Road, Deep Bay
Google map

Home Energy Management presented by Ian Gartshore, Shore Energy Solutions
Solar and Geothermal Systems for Homes presented by Scott Fleenor, Terratek Energy Solutions
Rainwater Harvesting Systems presented by Ed Hoeppner, Aquarian Systems
Guided tour of the Centre for Shellfish Research Field Station
1 A FREE shuttle will be provided to the VIU Centre for Shellfish Research Field Station. Please indicate at time of registration if you require a spot on the shuttle. Below is the shuttle schedule:
11:30am Depart Woodgrove Centre (Bay #2/#8)
11:53am Depart Parksville Civic Centre (bus stop across the street from the centre)
12:00pm Depart Wembley Mall (bus stop at Save-On Foods)
12:14pm Depart Ravensong Aquatic Centre (bus stop in front)
12:44pm Arrive VIU Centre for Shellfish Research in Deep Bay
---
Green Building Open House Tours
Sunday, September 23rd, 10 am - 4 pm
A select number of innovative green buildings and houses in our Region will open their doors to allow residents to learn first-hand how various sustainability measures are incorporated into the design and construction of these new construction and renovation projects.
All open houses are FREE. However, space is limited. Pre-registration is required to participate in the open house tours.
1. Raincoast Home on Gabriola Island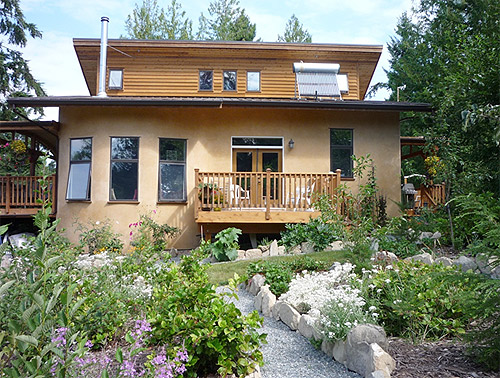 This beautiful new home was designed by Cindy McCaugherty, a "natural home" designer. It was built almost entirely by Cindy and her husband Bill. Aiming for sustainability, energy efficiency, creativity and beauty, they combined traditional and alternative building methods. Included in the project are a wide range of elements such as cob, light clay straw, earthen floors and countertops, clay and lime plasters, locally milled timbers, as well as reclaimed materials. With south facing windows and interior mass from the floors and cob walls, the home is heated partially by passive solar energy. A rooftop solar hot water unit supplements a tankless electric on-demand water heater. Some other features include: composting toilets, triple glazed fiberglass windows, super insulated walls, planted roofs, grey water re-use and extensive use of low embodied energy materials. The house is situated on an 8.5-acres lot with one quarter of an acre fenced for a food garden. A perennial "forest garden" is being established on a sloped area south of the house.
2.The Haliburton SIP House in Nanaimo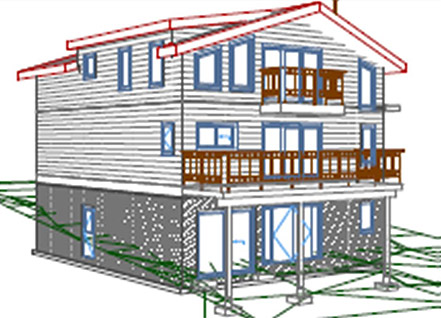 A unique opportunity to tour a Custom designed, open concept, 2 storeys plus walk out basement home in downtown Nanaimo. This home's exterior walls and roof are constructed with Structural Insulated Panels (SIPs), contributing to maximum insulation values and seismic structural requirements. The project will be in mid-construction, giving an opportunity to see the SIP panels before they are covered with interior finishes. This home's goal is to achieve Built Green Platinum and minimal operating cost, the homeowner's goal is to enjoy their vast harvested rainwater fed garden and capture the stunning ocean views.
3. Craftsman Bungalow in Nanaimo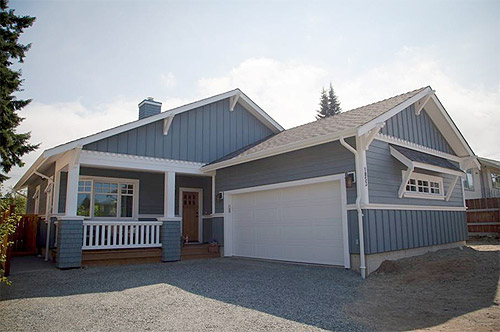 This cozy Craftsman Bungalow represents care-free retirement for its owners. The home was custom designed by Pheasant Hill Homes to allow the owners to age in place graciously and comfortably with very low monthly utility fees. Low maintenance features, accessibility, and the desire for an uncomplicated lifestyle influenced the design and finishing of this energy efficient home. Increased air tightness, a Heat Recovery Ventilator, added insulation, and better windows make this home a very good value for its owners.