Notice of Improvements
TCT Timberlands Rd Parking Lot and Access Trail
Development has begun on a new parking area on Timberlands Road and trail access to the Haslam Creek Suspension Bridge at the south end of the RDN's section of the Trans Canada Trail, now called
"The Great Trail"
. The initial phase will be completed in December 2018, and the final phase in 2020. See the map below and follow the RDN web site for updates on the project.
Initial development involves a vehicle parking area off Timberlands Road in the east lane of the hydro corridor, and new trail route to the large Ministry of Transportation and Infrastructure gravel pit south of Ninati Road. From there, it's the usual gravel pit road to the Haslam Creek trailhead for now. Thank you to Island Timberlands and a second private landowner for granting public access for parking lot and trail to the gravel pit.
Completion of the project in 2020 will involve expansion of the Timberlands Road parking lot to include horse trailer parking along the west lane of the hydro corridor, and trail to bypass the gravel pit and connect with existing trail to Haslam Creek. The bypass trail will highlight The Great Trail connection with Cowichan Valley Regional District's Bush Creek Trail to Ladysmith.
Keep an eye out for new The Great Trail signs at Timberlands Road and along the trail. The TCT organization is reserving Trans Canada Trail as name for the Foundation itself. Over the next few years, the RDN will replace all TCT signage along the Haslam Creek, White Pine, Pipeline and Extension Ridge Trails with TGT signs to reflect the new national trail logo and name.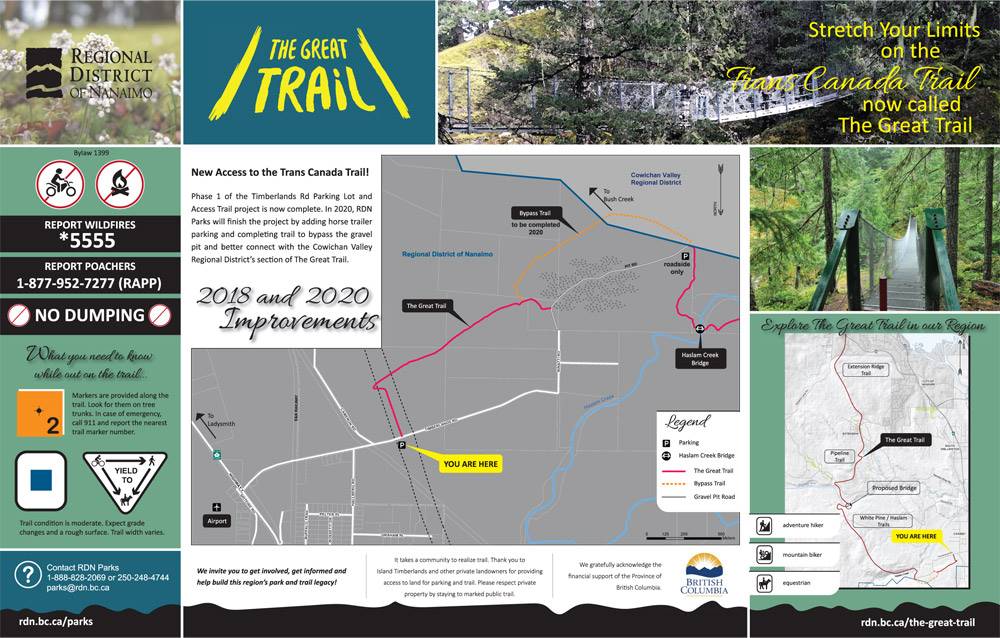 For more information, contact:
Questions or Comments?
Contact RDN Parks Services at
250-248-4744 (1-888-828-2069)
or email recparks@rdn.bc.ca