First 2000 Days and Beyond
First 2000 Days and Beyond
The First 2000 Days and Beyond is an Oceanside collaborative started in 2019, following a community convening which focused on food security and mental health. The long term impacts required to make an impact on upstream social determinants of health and move the needle on child wellness, requires a more collect impact approach to make a systems level change at the population level. The working groups together with Island Health developed the Nourishing the First 2000 Days initiative which is supported by the Child Wellness Action Group (Oceanside Health & Wellness Network), Building Learning Together Early Years Table, Local Action Team (LAT), and the Oceanside Community Response Committee (OCRC).
Questions? Want to be a part of the collaborative? Call 250-739-1755 or email info.ohwn [at] gmail.com.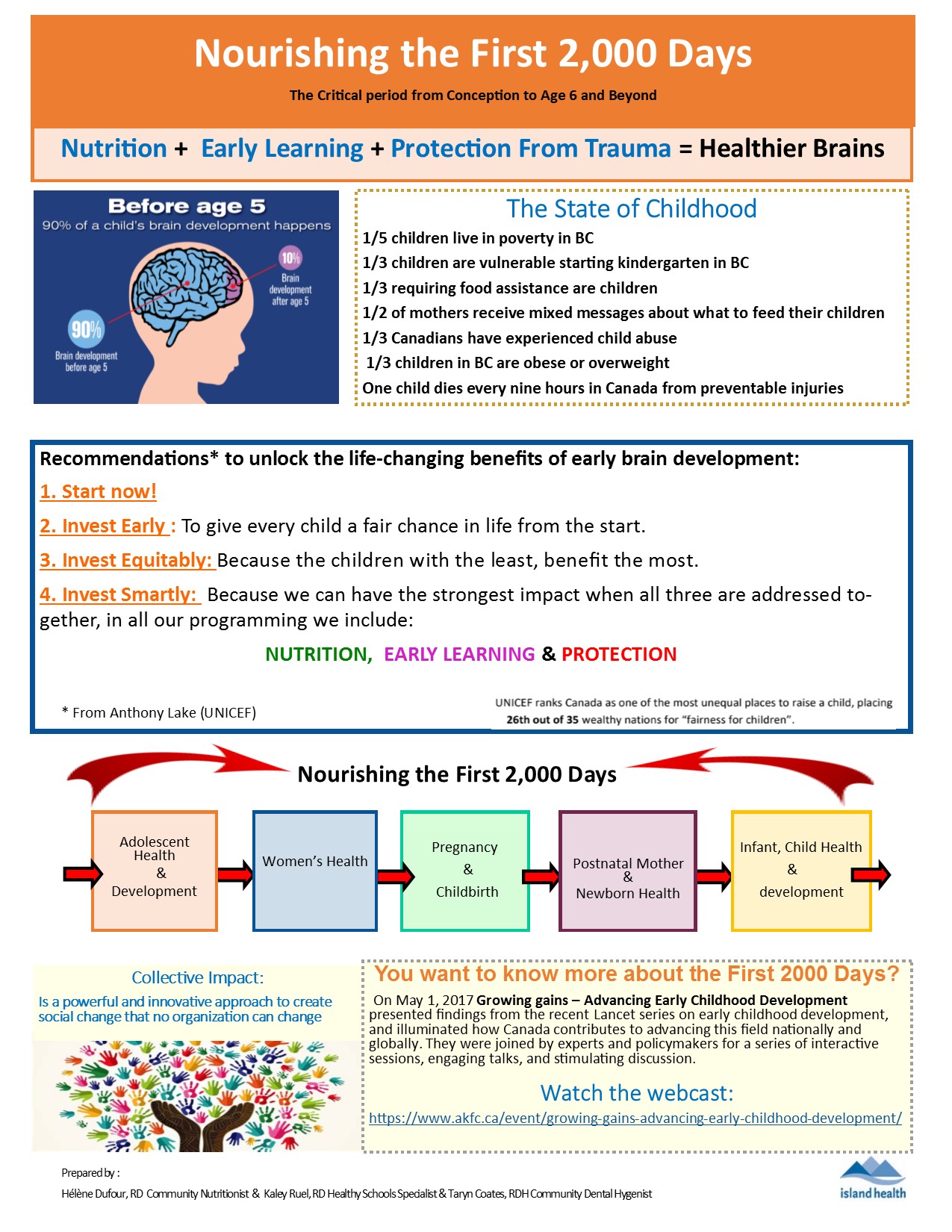 [Click on the Image to Expand]
A Call to Action for Service Providers
For a bigger collective impact, we invest in multi-sectoral partnerships and reflect on our internal programs and services to address three major predictors of healthy brain development in early childhood; 1. proper nutrition, 2. opportunities for early learning and 3. protection from trauma.
Priority Areas for Action: Three Components of Nurturing Care
Support Nutrition

Food Security

Promote access to nutritious, safe and culturally appropriate foods.

Prenatal/Maternal Nutrition

Support maternal nutrition during pregnancy and in early childhood.

Breastfeeding

Support breastfeeding and create supportive environments for families.

Children & Youth

Promote nutritious foods where they live, learn work and play.

Knowledge Transfer

Obtain and share reliable and evidenced-based nutrition information. Check Health Link BC, Health Canada or Dietitians in your Health Authority.

Promote Early Learning

Stimulation & Play

Increase opportunities for play to promote the child's well-being

Serve & Return Interactions

Promote simple responsive interactions that help build new neural connections.

Attachment

Support the formation of healthy attachments by encouraging consistent and age-appropriate parent-child interactions.

Parental Engagement

Encourage parent engagement to promote safe, stable and nurturing relationships for social and emotional development and skill building (language, executive function).

Knowledge Transfer

Obtain and share reliable and evidenced-based information. Check with your local Early Years Network, School District, Childcare, Health Authority.

Ensure Protection

Protection from Toxic Stree

Facilitate supportive parent-child relationships. Encourage activities that build executive function skills and self-regulation.

Protection of Mothers

Ask, listen and support. Offer resources to mothers who need extra support.

Accumulate Positive Experiences

Encourage positive experiences that promote resiliency and encourage growth from positive/manageable stressors.

Trauma-Informed

Apply this approach to recognize the symptoms of trauma and acknowledge the role trauma has played in the client's life.

Knowledge Transfer

Obtain and share reliable and evidenced-based information. Check with Child Youth Mental Health, Local Action Team or Health Authority.
2020 Forum - The First 2000 Days and Beyond: Tipping the Scale
Below are the video presentations and a report on the breakout discussions from the First 2000 Days and Beyond: Tipping the Scale Forum held October 29 and November 5 in the community of Oceanside.
The First 2000 Day and Beyond Forum Report
First 2000 Days and Beyond Community Education Series

Resources for Service Providers
General
Nutrition
Early Learning
Protection
Selected Web Resources
This web page serves as our collaborative communication tool for the First 2000 Days & Beyond project. Please email us any additional resources to be added here.
Early Learning Resources
Nutrition and Food Security
Protection from Trauma