Current Priorities

The OHWN Circle of Partners has identified the following priorities for action: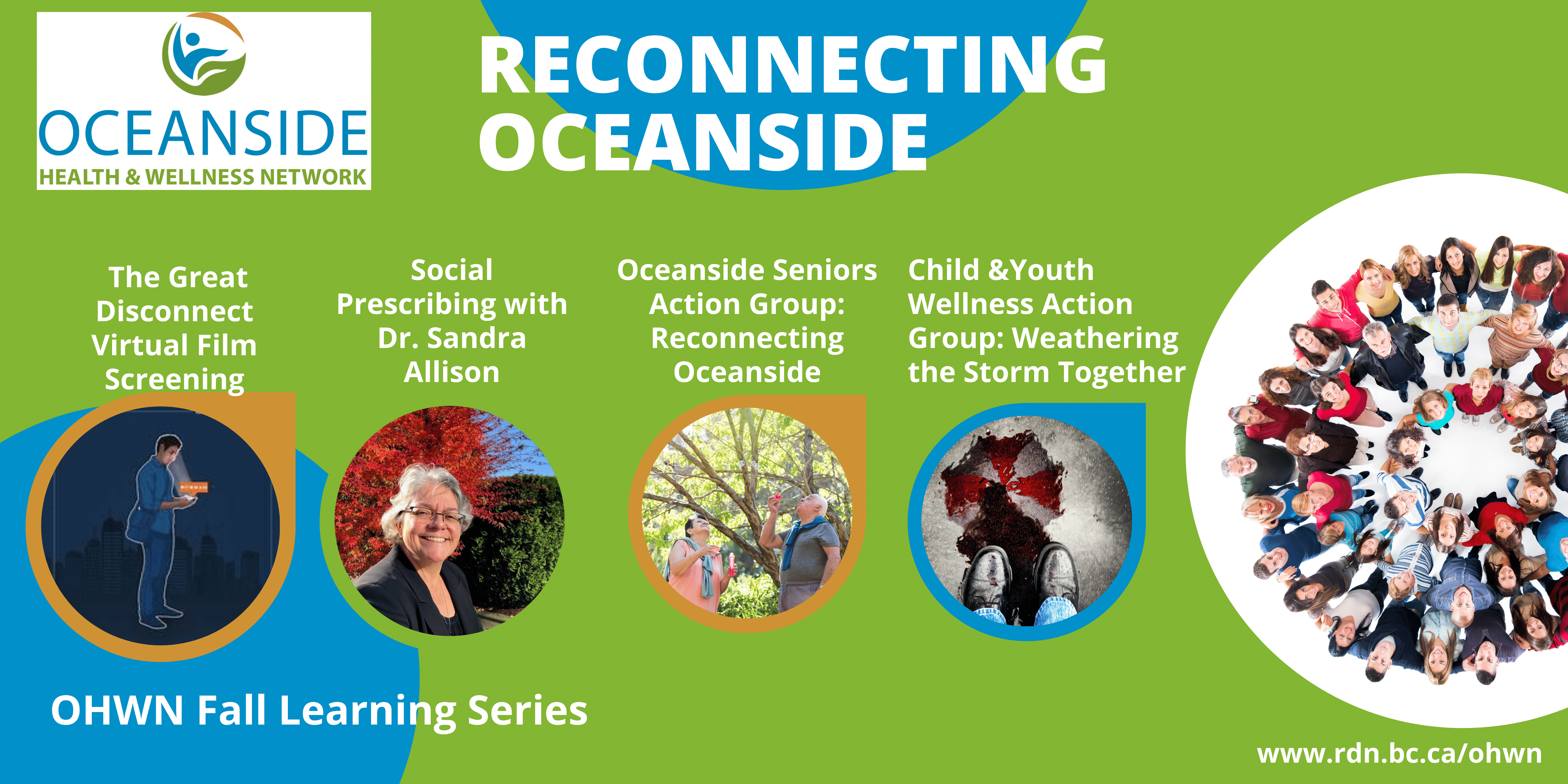 The impacts of COVID-19 have the Oceanside Health and Wellness Network prioritizing reconnecting our communities, building resiliency, and targeting mental wellness as we look to the future, and recovery. COVID 19 has impacted the way we gather, the way we network with each other, and we are focusing on what changes need to happen to help us achieve our strategic planning goals of better mental wellness, focusing on early childhood and youth wellness, and increasing social connectedness for older adults in Oceanside.
Reconnecting Oceanside: OHWN Fall Learning Series events brought community together at an individual and organizational level to look at building our resiliency through increased social connectedness, learning about social prescribing, and supporting everyone in community by offering tools and understanding for increased mental wellness. Our Oceanside Seniors Action Group event has been moved to February, 2022.
Social Prescribing, November 5, 2021
Weather the Storm Together, November 24, 2021
Weathering the Storm Together: Fostering Resilience and Mutual Support in Oceanside
Weathering the Storm Together Slides
Child Wellness
Our Child Wellness Action Table is part of the First 2000 Days & Beyond, an Oceanside collaborative project. The First 2000 Days initiative focuses on the life of a child from conception to age 5 and acts as a catalyst for linking, aligning and leveraging efforts in the Early Childhood Development system to enable collective action toward improving Early Childhood Development outcomes.
Visit the First 2000 Days & Beyond page to learn more about the project, view shared resources, data or to find out how to get involved.
Child & Youth Wellness Action Group - Who We Are (presentation)
Seniors Planning
We are a collaboration of service providers and community members from District 69 who were brought together by the Society of Organized Services (SOS) in response to challenges raised at the United Way of the Lower Mainland Seniors Summit in 2017. The objectives of this summit were to:
Raise the profile of the Community Based Seniors Services (CBSS) and,
Increase the capacity to deliver health promotion and prevention programming supporting seniors' independence, resilience and social connectedness.
Research presented confirmed that the great majority of seniors wish to remain in their own home and "age in place". The most important programming consideration for all seniors was social connectedness.
In 2018, SOS hosted a round table of seniors' service providers, local government representatives and other interested parties. The Seniors Planning Table was formed as a result of this meeting with the assistance of the Oceanside Health and Wellness Network.
Our Mission
We are a group of community stakeholders who have access to resources and information that will empower the community contained within District 69 and provide access to the needed supports for our older adults to age in place.
Our Vision
We will facilitate "self-care" and "caring for each other" in our communities. We will foster links within the community so as to seek out and assist older adults at risk of seclusion and social isolation. Through networking and communication opportunities, we will determine the detriments of our aging community and provide information that will help mitigate the effects of these barriers to good health.
Our Values
Treat each other with respect, dignity, and as full members of our community.
Please download and share our communication material with older adults in your community.
Living Safe and Healthy in the Place of Your Choice
About the Oceanside Seniors Action Group
To Contact us:
Please leave a message at 250-739-1755 or email Seniors Planning Table at communications.ohwn [at] gmail.com
See our Links page for reports and resources related to these, and more, priority areas.
As OHWN continues to grow and engage with the community, these priorities will be refined and additional priorities may be identified.