Big Qualicum Watershed Map
< Return to DWWP
Our Water Regions | Drinking Water & Watershed Protection Program | www.dwwp.ca
Quick Facts
The Big Qualicum water region extends from Mud Bay in the north to Qualicum River in the south and from the coast to the Beaufort Mountain Range in the west.
The total drainage area is approximately 292 sq. km.
It includes all of RDN Electoral Area H and small sections of Areas F and G.

Reports

Projects
Base Layer
Land Use
Water Supply
Aquifers
Streams & Waterbodies
First Nations Significance
Community Programs
Base Layer
Land Use
Forestry and rural residential land uses primarily make up this water region. There is some agricultural land use and two small village centres.
This water region largely falls within Electoral Area 'H' and land use is planned through the OCP, here.
Small portions of this water region fall within Area 'G' and Area 'F'.
The private managed forestry lands are overseen by the Managed Forest Council. The two largest private forest companies are TimberWest and Island Timberlands.
The RDN has an Agriculture Area Plan that contains a regional strategy for sustainable farming and related land uses.
Water Supply
The drinking water in this water region is predominantly groundwater coming from area's productive aquifers. There are three main community water suppliers:
Bowser Waterworks - 250.757.8363
For properties that are NOT within the community water supply area, residents supply their own water from private wells
. These are shown as pink dots on the map image. Our
wellSMART
program provides information on private wells.
Island Health Authority is responsible for the oversight of drinking water quality in community water systems.
Education and networking opportunities exist for smaller water system operators, such as mobile home parks, restaurants, campsites, gas stations etc. The Water Purveyor Working Group meets annually, click here for details.
Team WaterSmart has information on what you can do to conserve and protect our water supply.
Aquifers
In this water region, the aquifers are productive sand and gravel aquifers that include provincially mapped aquifers 416, 421, 665, and part of 662. While generally considered to be productive, these sand and gravel aquifers are also inherently somewhat vulnerable to surface contamination. Water quality and quantity in this water region are considered to be excellent.
Groundwater monitoring is ongoing in this region, with Provincial Observation Wells:
(#310) between Deep Bay and Bowser that monitors water levels in aquifer 416
(#426) near Spider Lake that monitors water levels in aquifer 662
(#427) near Qualicum Bay that monitors water levels in an unmapped aquifer below aquifer 665
There was an additional RDN Volunteer Observation well near Spider Lake, in aquifer 661, monitored between April 2014- September 2016.
Further study on the aquifers in this region was accomplished through a partnership with Natural Resource Canada / Geological Survey of Canada who completed the Nanaimo Lowlands Aquifer Characterization project between 2010 - 2015. Three-dimensional modelling of the aquifers was done for the area between Deep Bay and Nanoose.
The Provincial Water Protection and Sustainability Branch is responsible for groundwater legislation.
For more on groundwater and aquifers, see Aquifers 101.
Streams & Waterbodies
This water region includes the Big Qualicum River as well as the neighbouring smaller watersheds including Rosewall Creek, Thames Creek, Nile Creek which all drain into the Salish Sea at the Strait of Georgia, north of the Town of Qualicum Beach. The largest lake in this region is Horne Lake.
The streams in this region are important fish habitat, especially for Pacific Salmon and steelhead trout. Key stewardship groups that are active in this region include: the Nile Creek Enhancement Society.
Streamflow is monitored in Nile Creek by the Water Survey of Canada. A Department of Fisheries and Oceans hatchery operates on the Big Qualicum River and they regulate streamflow in that system.
The Province of BC is responsible for freshwater regulations, see the Water Sustainability Act for more information.
The RDN Phase 1 Water Budget Study (2013) looked at supply and demand on surface water resources in Water Region 1, based on available data.
First Nations Significance
This water region is within the traditional territories of the Qualicum First Nation and the K'omoks First Nation. This area is rich with cultural significance and the waters and lands are closely connected with First Nations peoples and their ancestors.
There were six Salish languages (Hul'qami'num, Snuneymuxqun, Sqo'mish, she shashishalhem, Tla'amin, Comox, and Pentlatch) spoken traditionally in the RDN. In addition, Nuu chah Nulth, Kwakwala, and Sencothen languages would also bump up against the boundaries of the district. And Chinook was also used as a trading language.
Each piece of land is known by different families, communities, First Nations, dialects and languages by similar and dissimilar names. The land belongs to the name. The name does not belong to the land. In this way?there are more than one Qualicums for example. One near Port Renfrew and one also near Bellingham.
We have recorded here (in partnership with School District 69) as many names as we have been able to find. We recognize that more names are out there, and we are always happy to include them if you are open to sharing with us. Email creid [at] sd69.bc.ca
Traditional ecological knowledge is vital to understanding our watersheds and their health.
Community Programs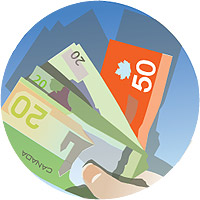 Rebate programs
are available for residents across the region to conserve and protect water. Currently being offered are:
Team WaterSmart
offers education and outreach programs across the region. They provide activities and resources on water conservation indoors and outdoors, water quality protection, and ecological values.
Workshops
Irrigation Initiatives
Brochures
Events Calendar
School education
opportunities are also offered across the region including:
Classroom Visits
Field Trips
Teacher Professional Development
Volunteer opportunities are sometimes available for private well owners, stream stewards and more.
I want to volunteer my well for monitoring
I want to volunteer with stream monitoring Email:

watersmart

[at]

rdn.bc.ca