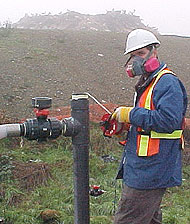 The gas collection system at the region landfill captures and utilizes methane and other GHGs.
Climate change and energy planning is a major thrust of the RDN Board of Directors' strategic plan for the region, which has sustainability at its core. The plan supports reducing energy consumption and GHG emissions through a long-term focus on building sustainable communities, promoting public education on energy and climate change issues, improving public transit, developing transportation alternatives, and continuing to work towards the region's zero waste goals.
Here are some areas where we are showing leadership in tackling climate change:
Regional Growth Management - In 1997, the RDN and its member municipalities adopted a Regional Growth Strategy that aims to focus development within existing urban areas, promote complete, mixed-use communities, and reduce the use of automobiles.

State of Sustainability Project - The State of Sustainability Project uses 47 indicators to track the region's progress towards sustainability, including energy use, water use, modes of transportation, and environmental impacts.

Solid Waste Management - The RDN was among the first local governments in Canada to adopt a Zero Waste approach to eliminating garbage and creating a more sustainable

Five Nova buses have been added to Regional Transit improving the fuel efficiency of the bus fleet.

region. Since 1998 the region has increased the amount of waste reduced, reused or recycled by 75%, keeping GHG-emitting materials out of the landfill and conserving resources.

Along with traditional recycling programs, there are several other RDN solid waste management initiatives that reduce GHG emissions. These include a program that diverts commercial food waste from the landfill to a licensed composting facility in the region and a landfill gas collection and power generation program that captures and utilizes GHGs generated at the regional landfill.

Regional Transit - The Nanaimo Regional Transit System is undertaking initiatives designed to reduce emissions. These include an upcoming biodiesel fuel program, a transit service review and an updated transit business plan.

Regional Trails System -

The Parksville-Qualicum Links offers pedestrians and cyclists a low-traffic alternative to highway travel.

The RDN Regional Trails System promotes walking and cycling by linking regional, municipal and provincial parks. The "Parksville-Qualicum Links" uses quiet streets and a pedestrian/cyclist bridge over French Creek area to connect two urban centres and offers pedestrian and cyclists a low-traffic route alternative to highway travel.